What is the importance of hose attachments for car washing?
Well, then, let's see the importance of this tool.
Washing a car with just a conventional hose is boring. Especially if you need to handle the water faucet all the time to vary the pressure and flow. You need to add some excitement to take things to the next level.
And there's no better way to do it than using hose attachments. From changing the jet shape to dosing soap automatically, these gadgets have come to transform a simple car wash into an exciting experience.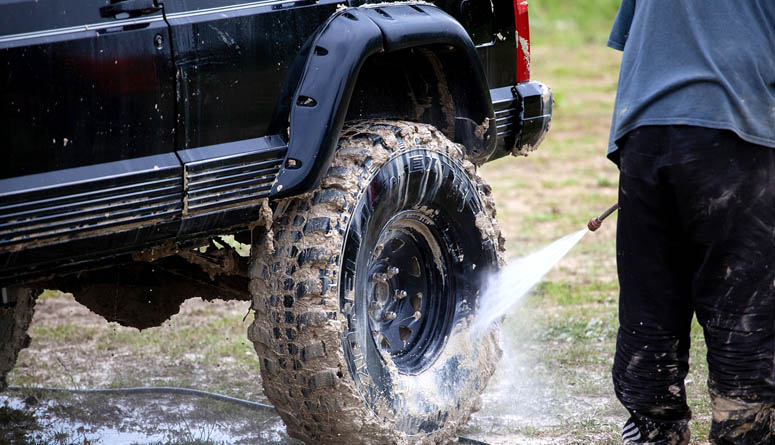 Today you'll learn few easy uses of hose attachments for car washing that you've never tried.
What is Hose Attachment?
A hose attachment is a gadget to change the behavior of a water jet or adding new useful features to a conventional hose. Special nozzles, hydrojets, sprinklers, soap dispensers and others, can be classified as hose attachments.
Hose attachments can be used for different purposes, including car wash. When water service isn't the best, these attachments can regulate pressure and flow at optimal values ​​to have the best cleaning.
Why do Hose Attachments need to Wash A Car?
Hose attachments make your life easier when it comes to washing a car. Using a common hose with normal pressure would take hours to remove dirt from your wheels. That doesn't include the time it would take to cover the entire car with detergent.
A single water jet can't cover as much space as a wide water spray would. You may need to walk over and over again to the water faucet to regulate flow when necessary.
Hose attachments can turn those difficult tasks into something simple. From controlling the water flow with a trigger to changing from water to soap with a spin. For that reason, hose attachments have become an essential tool for car washing these days.
Hose Attachments for Car Washing. 5 Easy Uses
If you thought that hose attachments are designed to be used only with cars, you're wrong. There are plenty of new uses to give them that maybe you never knew.
Remove Difficult Stains from Concrete Floors
Removing oil stains from concrete pavement is a real headache. From Coca-Cola to caustic soda and hydrochloric acid. Maybe you've tried all kinds of miraculous Internet solutions without any results.
Additional water pressure provided by hose attachments is sufficient to remove the most stuck stain. Mix stain remover and water and pour into the soap dispenser for best results.
Water the Plants from A Safe Distance
Next time you want to water your garden, you won't even have to leave the house. Some nozzles provide enough pressure to irrigate large areas without moving anywhere. The perfect tool for a lazy gardener.
Bathe Your Dog and Avoid Splashing
Dogs are very restless animals and bathing them is a real challenge. If you hate to end up covered in soap after doing it, there's an easy way to get the job done without even getting your hands dirty.
All you need is to secure your dog with a leash, place yourself in a safe place and let the hose attachment do the rest. From dosing shampoo to cleaning difficult areas. The water shower nozzle is very useful in these cases.
Remove Mold and Difficult Stains from High Walls
Cleaning external walls of a structure with two or more stories requires using scaffolding or platform elevators. However, using hose attachments can save you money for rentals and installation time.
If you thought that bleach was the best solution for mold, you probably haven't tried high pressure water.
Unclogging Pipes
Large diameter pipes, such as rainwater drains, can be clogged with dry leaves, trash and sediments. Next time you want to save the plumber's money, use the high-pressure nozzle to unclog your pipes.
Conclusion
Using your creativity, you can give new interesting uses to your old hose attachments. To begin, start by identifying some common problems in your home and think about how your hose attachments could help you solve them.
By doing this you'll become an expert by turning a simple water tool into the best solution to common problems.