This Coleman 8 person instant tent review article can make your decision final that, it is perfect for you or not.
So, let's go and keep reading the review. And for your kind information, this is a neutral review. So, you can rely on Homey Gears team's selection.
Coleman has been in the camping business since the 1900s. In fact, you can't put together any list of best camping gear without their name popping up. So you can be sure that they know what you need. So, are you going camping with your friends or family? They've got you sorted. They are world renowned for the tents they offer. One of the leading products is the Coleman 8 Person Instant Tent. What makes it so great? Let's break it down.
What Are the Best Features?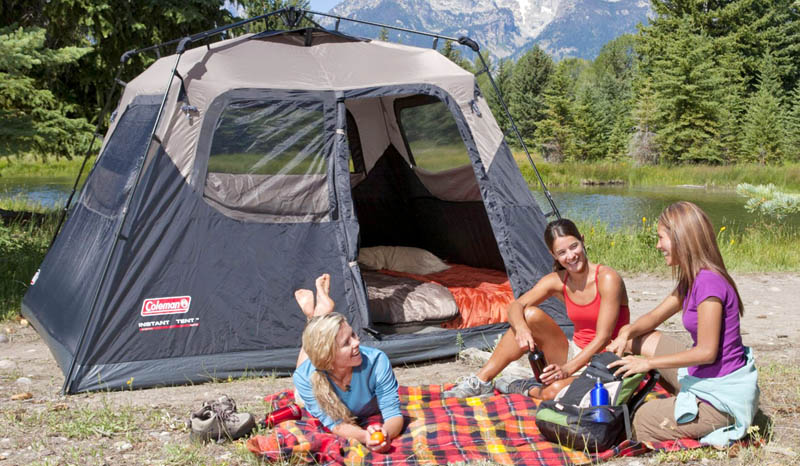 So, it's an instant tent. That the main reason why everyone's falling in love with it. You can put it up in 60 seconds. And you don't have to be a pro to do it. The pre-assembled poles are arranged around the body of the tent, making it easier for the tent to be set up. You just have to extend and secure them. Taking down the tent is also quick. You can do it in under 2 minutes. Velcro attachments to keep the tent's body intact as you pitch the tent, thus saving you time.
This makes it an excellent shelter for family camping trips, backcountry adventures or even hunting expeditions. It's also very spacious. It as a 14 x 8 ft. floor area and a center height of 6 ft. 4 in. The space is large enough to house 2 queen size airbeds. Hence, you can easily walk around in it, and comfortably sleep at night without crouching up.
Coleman 8 Person Instant Tent is Safe
The tent has a room divider which enhances privacy. It comes with Illumiline™ reflective guy lines that provide greater visibility at night. This means that you won't be tripping all over each other, and you won't bump into your gear. It also has the popular WeatherTec™ system. This entails the patented welded floors in addition to the inverted seams. This keeps you dry throughout the camping trip. It also has a door awning that keeps out the water. The tent also has a ground vent that enhances air circulation, which helps to keep the occupants cool.
Coleman Instant Tent is Waterproof
The Coleman Instant Tent uses heavy duty waterproof material. The Polyguard 2X™ double-thick fabric can withstand the harsh weather elements of the outdoors. The coated polyester body, with anti-wicking thread, keeps the tent dry and prevents it from being hurt by the large amounts of pressure caused by precipitation. The windows and doors are fully taped, which prevents water from seeping in. Since heavy-duty 150D fabric is twice the thickness of a standard tent fabric, it means that it can resist more wear and tear. That means you will be using it for many camping trips.
The tent has an E-port to allow you to bring electrical power into the tent. It also has storage pockets for you to keep your gear organized. When it's time to close up camp and head home, the tent fits into an included carry bag. This big family camping tent comes with a 1 year manufacturer warranty.
Why Is It The Editor Choice?
The speed of putting up the tent is what sets it apart from its competitors. A minute is record time. On you family camping trip you want to spend more time playing with the kids, and not itching the rent. This also means that even if you arrive at the campsite late, you don't have to worry. Its spacious interior also factors in.
The 8-camper size makes it ideal for family getaways or camping for large groups like scouts or company retreat. It also has enough head-room to comfortably stand around in. The tent can be divided into two equally-sized chambers by a sheet of nylon which can also be easily moved aside.
The tent protects you from all kinds of downpour. This ensures that you remain dry even during heavy thunderstorms. It can also stand up to heavy winds.
Pros
Quick assembly design.
It's spacious and has plenty of leg-room.
The tent is completely waterproof. It shields the occupants and camping gear from rain and water seeping in.
It's easy to care for and maintain. You simply have to wipe it with a damp cloth.
It's well aerated. The ground-vent also increases ventilation.
The illuminated lines around the outside are very visible.
Fully-welded floor prevents leaking.
You can adjust the windows and vents around the tent to control the amount of light that comes into the tent at any time of the day.
The tent itself has an integrated rainfly, so you don't really need to get a separate attachment. However, if you're insistent on it, you can buy the Coleman rainfly separately in case you'll be expecting heavy downpour on your camping trip.
E-Port makes it convenient to bring in power into the tent.
The tent has a sturdy structure to keep it firm throughout the camping trips. It can withstand strong wind.
Cons
It's quite heavy (36.3 lbs.), hence it's not ideal for long hiking trips. This is specifically for the cabin and dome design. They are best suited for car camping, or if you'll be trekking for short distances and have the muscle to bear the load. Coleman has released a technical backpacking design.
It only has 2 interior pocket, like the cup-holders in your car. Nevertheless, there's enough space in the tent to house all your camping gear.
It's quite pricey compared to the other tents. However, it's worth every penny.
FAQs on Coleman Instant Tent
Well, here are some common questions with answers. Hope this FAQ part can help you to understand more better of this tent.
Q1. Does the separate rainfly fit?
It attaches perfectly. However, you should ensure that tent and rainfly were the same size so that I wouldn't have to return it due to it not fitting.
Q2: In what seasons can you use the tent?
It's a 3 season, suitable for summer, spring and autumn camping.
Q3: What dimensions will the trunk of the car need in order for the tent in the storage bag to fit?
It needs approximately 3-3.5 feet height and about 12 inches around. It has carry loops and two straps to tighten bag.
Q4: Can you hang a lantern from the roof?
Yes, there's a loop inside the tent specifically for that use.
Q5: Do the screen windows close for privacy?
Yes they close. You can zipper all of them up.
Verdict
The Coleman 8 Person Instant Tent delivers on its promise. It's fast to set up and efficient. It effectively provides shelter and protects the occupants during their camping trips. It has received plenty of good reviews ad ratings from customers around the world.