Do you know, how to choose best camping tents for families? If you know, that is really good. But, if you don't know, our experts are going to give you the solution.
Let it go and keep reading.
Every camping trip is an adventure. To enjoy it to the fullest, you need to buy some camping equipment for that. Like the right tent that suits your needs, a perfect waterproof backpack, lantern and other camping tools. The wrong choice will cramp up your trip and leave you feeling hot and uncomfortable. But there are numerous options in the market to choose from. How to you make the right option that will give you a value return for the money you spend? Here is a how to choose best camping tents for families buying guide for you with:
But remember, there are huge difference between best family tent and best camping tent. A family tent can be used for only family purposes but a camping tent can use any type of work, no matter you are in a family camping or in a friends together camping.
In this article, we are going to write about best camping tents for families. So, if you are going for a camping, you should read this article.
Top 5 Tips To Purchase The Best Camping Tent for Your Family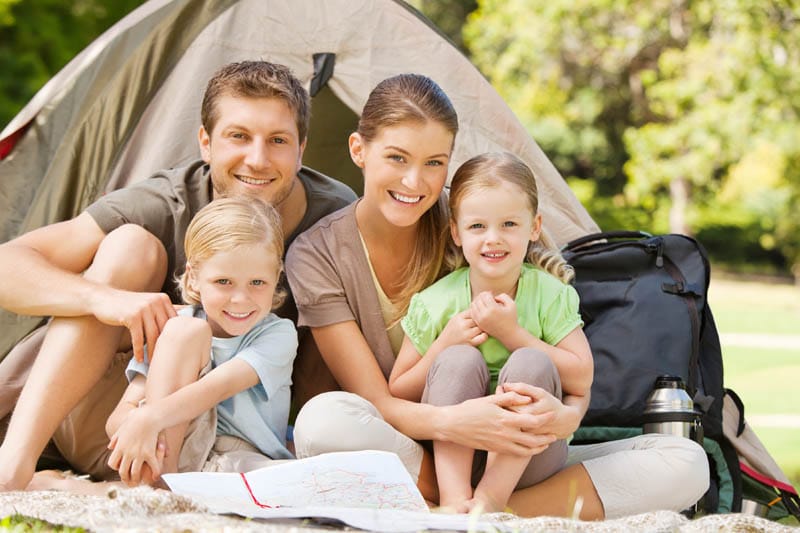 Right now, you are going to learn some special tips. Which will help you to choose a perfect tent for your family for the next camping trip.
Why We Learn?
Better, learn everything before you buy a tent. So you can purchase the best family camping tent for your next family camping:
1. Go for Comfort
How many people will be using the tent? How tall are they? Can you stand or do you have to crouch when moving around? People also need to sleep without being forced to curl up into a ball. Tent size matters. Consider the space you will need in that tent, and note what you will want to store in the tent with you. Camping tents are designed to allow you to stay in luxury throughout the day and night.
In addition, how well does can it protect you from bugs and the weather elements? You should be able to do your favorite activities in it- whether it's reading a book, hanging out with friends and family or taking a nap. It should also be well ventilated.
2. Think of Your Camping Conditions
When and where are you going camping? Different tents are suited for different conditions. A summer tent is lightweight but won't last in stormy or winter environments. You can pick out a tent that has been uniquely designed for each season, or go for a 3- or 4- season tent.
3-season tents cover spring to autumn, while the 4 season tent takes care of winter as well. It can provide a cool ambience during the hot summer months, protect you from the cold of winter, and still survive heavier rain and winds.
As well as if you are going for fishing, you must need a temporary lightweight tent. So you can easily carry it.
Ensure that the tent can also protect you from the water that seeps in. Some tents have a flooring, while others use footprints. Footprints are pieces of specifically designed and shaped fabrics, or tarps, which are put under tents to protect them from abrasions and the ground. Remember to check the weather forecast the day before you go camping. This will ensure that you're not caught by surprise.
3. Ease of Use
The last thing you want is to struggle to set up the tent with a storm approaching or as darkness begins to set in. You want a tent whose set-up is easy and hassle-free. It should be easy enough to be put up by one person. Some tents take 2 minutes while others may require quarter an hour. The structure of the tent pole will tell you how easy or hard it is to pitch tent.
Taking down the tent should also be easy. If you are going on a hike or closing down camp, you don't want to be delayed by a tedious tent. Ensure you can easily shake out the dirt before taking down the tent. Remember that bigger tent can only be set up in bigger camp sites. You may need to find a large, level spot away from the campsite.
4. Check Out the Quality of Material
You don't want a leaking tent. There's also nothing as frustrating as your tent pole breaking in the middle of a camping trip. How are its workmanship and durability? These matter especially if you plan on keeping the tent around for a long time. Check out how the tent holds up to heat and rain, and how sturdy it is against wind.
Aluminum or composite poles are strong. Materials like canvas or poly canvas cotton blend are generally waterproof. The flooring should also have a waterproof material like welded polyethylene or nylon.
Remember that your camping tent will be your shelter for the entire trip. Don't compromise quality for cost. A cheap tent may not survive your camping trip. First seek out what you want in a tent, then set your budget and compare prices.
5. Weight of the Tent
You don't want to be dragging around tons of steel. How much time do you plan on spending in the camp and in the tent, and how much time will you spend carrying the tent on the trail? Will you need to carry the tent for a great distance? Are you going on a weekend trip or base camping, where you spend more time in the tent instead of hiking, or do you prefer going for long, multi-day trips?
Are you and your camping crew big, strong people who can carry a few extra pounds? Basically, you should asses your capability to move the tent around. If you're going with a car, you should also ensure that it can support the weight of the tent in addition to all the camping gear.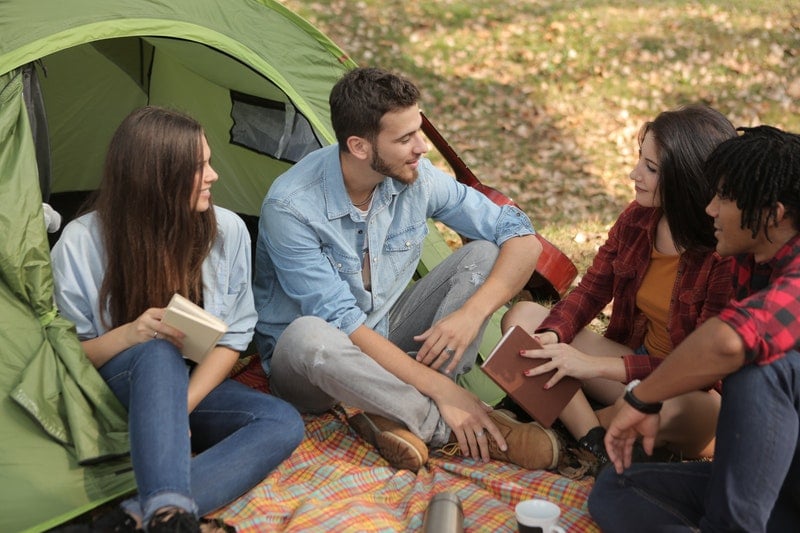 Top 4 Best Family Camping Tents: Comparison
See below 4 best family tents comparison. You can choose anyone for your family. These are very good and perfect for a family. Keep reading to know more.
| | | | | |
| --- | --- | --- | --- | --- |
| Tent Name | Capacity | Weight (lbs) | Dimension (inch) | |
| Coleman Sundome | 1-4 | 8 | 4.09 x 9.02 x 7.01 | Check Price |
| Coleman Montana | 3-8 | 24.5 | 9 x 9.25 x 27.5 | Check Price |
| Coleman Instant Tent | 2-6 | 24.9 | 72.01 x 107.99 x 120 | Check Price |
| Coleman Evanston Tent | 2-6 | 26.38 | 9.75 x 11 x 27.75 | Check Price |
Top 4 Best Family Camping Tent Reviews
Here you can read above each tent individual review that you will be benefitted to understand what is the best camping tent. These 4 reviews also help you to make your decision lock to buy one the best family tent. So let us write everything for you:
1. Coleman Sundome 4 Person Tent
It's part of the classic Sundome series of tents from Coleman. The tent has been designed to appeal to a wide variety of campers. It is also affordable, and anyone can buy it. You can set it up in under 10 minutes. It's durable and supports frequent camping. It is a favorite for casual campers who like camping for long periods of time.
Being a 4 person tent, it sleeps 4 adult-size people, or one queen airbed. Its generous 9' x 7' interior gives campers 63 square feet of space. It has a 59″ center height, so there is sufficient room for tall people. This also means it's high enough to sit comfortably inside with a couple of chairs. It has WeatherTec system's patented welded floors and inverted seams which help keep water out.
It's 8.5 mm fiberglass poles and Insta-Clip pole attachments are sturdy enough to support the tent in all weather conditions. Its ground vent and large windows enable enough ventilation. At the back of the tent there's a tiny zippered flap that allows you to reach out for a drink from the nearby cooler without leaving the tent. It also comes with a mat to put outside the front door so you can leave your muddy shoes there.
Positive & Negative Sides
Each and every tent has some negative sides with the best positive sides. As we are a neutral reviewer, we are going to write both of side.
Pros
Only 15 minutes set up time.
Sufficient space.
Keeps you warm and dry even in stormy weather.
Its partial rain fly enables excellent visibility.
Great ventilation.
Its bathtub floor that provides maximum protection from water seeping in.
Has storage pockets keep gear organized.
It has an opening, so, you can run and extension cable in if camping with electricity.
It comes with a hook so you can hang a battery or electric powered lantern from the top center of the inside roof of the tent.
Cons
Very heavy.
Little bit bulky. So, it is good for car family camping.
The rainfly does not extend all the way to the ground.
This tent is good for camping with your family or a couple of friends. But usually it is goof for a medium family.
2. Coleman Montana 8 Person Tent
It's huge and has more than enough room. It offers a full feature set for a fun family camping experience. It's great because it brings luxury to camping for families and large groups like scouts and extended camping trips.
Its polyester fabric attached to anti-wicking fiber, plus the zippers and webbing protect you from the rain. The 16'x7′ floor size is generous with room. The durable poly floor will enable you to sit and move around, and the taped fly stitches will keep the water out. In fact, the specifically angled windows keep rainfall out even when their open.
The shock corded 11-millimeter fiberglass poles proceed through continuous color-coded clips and sleeves to increase the strength and sturdiness of the tent. It has interior gear wallets for arrangement of items.
Pros
Easy to set up
Spacious
Great air flow
High 74″ center height, allowing enough head room for movement
Mesh roof allows more sunlight in and increases visibility
You can divide the interior into "room regions" to give each camper their unique space allocate
Has an electrical access ports which enables you to run extensions
Hinged doors bring a home experience
Protects from all-weather elements
Cons
Bulky and takes up space
Quite expensive, but you only need to buy it once since it's durable, and you get a value return for your money's worth
Its heavy, hence suited to car camping
This 8 person tent furthermore allows enough room to match such camping amusement as bunk beds plus double mattresses into the space. That means you'll have a comfortable sleep. Every camper also has their privacy.
3. Coleman 6 Person Instant Tent
This one is famous for its quick set up time. It comes with pre-assembled poles, which enable you to put up the entire tent in under a minute.
The 10 x 9 ft. interior has enough room for two standard queen beds. The 2.7m center height allows sufficient center height. Its WeatherTec system uses a series of inverted seams and welded floors around the body of the surface, keeping water out from the rest of the space.
It comes with two inner pockets on the inside walls of the tent to enable you to store and arrange your items. The coated polyester fabric can withstand huge storms, and the steel poles are steady enough to handle strong gusts of wind.
Pros
Easy, instant setup
Sufficient room. The size is comfortable enough to fit in a few air beds and plenty of sleeping bags
Sturdy tent and can withstand heavy rain
It has several windows for increased aeration and visibility
The windows have ties that you can use when rolling them down to adjust and control the windows
Comes with reflective guy lines that have increased illumination and prevent accidental tripping
Its built-in vented rainfly provides additional protection from the rain
The fold-out vents are convenient and easy to use
Cons
Heavy, but can be carried by the average adult
Shouldn't be used in areas with very strong wind, as it'll break the poles. The manufacturer has included this warning in the instructions
It's quite pricy, but makes up for this in space, comfort and convenience.
The Coleman 6-Person Instant Tent brings together convenience and luxury. The fact that it's easy to use and has enough room are what make it a hit among campers.
4. Coleman Evanston Screened Tent
It's popular because of its fully screened front porch. It's literally an outdoor living area. It also has sufficient space for families and groups of people.
Its 68″ provides enough headroom, and the 14 x 10 ft. footprint means you can fit 6 people or 2 queen-size air beds. It has an electrical access port though which you can charge your electronics and an outdoor porch where you can lounge outside in the shade. The 4 large windows enhance ventilation and the polyester taffeta material can withstand heavy rains. Its fiberglass tent poles are sturdy enough to support the tent in shifting weather conditions. Velcro attachments protect the rainfly.
Pros
The outdoor porch provides a serene area for relaxation
Easy to set up
Highly durable, and you can go with it on numerous camping trips
Waterproof polyethylene floor keeps water from seeping in
Sufficient space- you can comfortable walk around without crouching
Has increased visibility
Zipper protection keeps leaks from entering through the doors
Windows are easily adjusted using the Variflo adjustable ventilation system
Cons
Heavy, hence not suitable for backpacking and trekking
The front porch doesn't come with a zip. However, you can collapse it when you're in the tent to provide greater protection from thunderstorms.
Lacks vestibule for hiking gear. However, this is more of a car camping tent, and it still has pockets for storage.
The Coleman Evanston Screened Tent ensures that you can enjoy the most of the outdoors. The porch allows you to relax, protected from the elements, without even having to be in the tent itself.
So, during the day you can back and enjoy the serenity of nature. Since it's spacious, it can accommodate groups of friends or family for your camping trip.
Editor's Best Choice: Coleman 6 Person Instant Tent
This takes the crown for being the best tent. This is for 2 main reasons: its fast set up time, and the fact that it's spacious. The ease of putting it up means that you can do it a minute after you arrive at the campsite, or even in the middle of the night. Taking it down at the end of your camping trip takes a similar short time.
It's also durable, and you can keep it for many camping trips. The vast space ensures you can move around comfortably. In addition, it helps you to keep your own things and camping equipment within the tent instead of keeping them far away in your parked vehicle.
It's sturdiness protects you from adverse weather conditions, keeping you safe to enjoy your camping adventure.
Verdict
It is a good decision to buy a perfect family tent. Because, you are going to spend some special moments with your family. So, of course you will buy a quality, perfect, good and best camping tents for your family.
Best of luck!